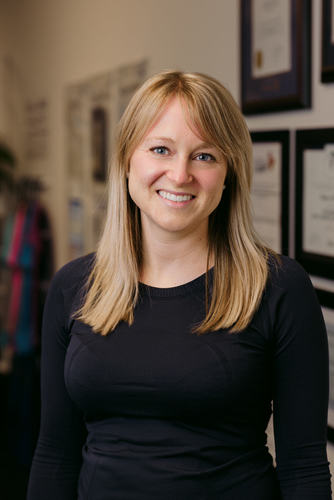 Meghan has been working in a private practice setting for over 5 years. In 2009, Meghan completed her Honours Bachelor of Science in Human Kinetics and a minor in Health Science from St. Francis Xavier University where she graduated with distinction. She then earned her Master's of Science of Physical Therapy in 2013 from Queen's University.
Meghan has continued her professional development with a variety of post-graduate courses and certifications including a Diploma of Advanced Orthopaedic Manual & Manipulative Physiotherapy (levels 1, 2, 3 Lower Quadrant; levels 1, 2 Upper Quadrant), functional dry needling levels 1 and 2 (Kinetacore), acupuncture (Meridian Health), Selective Functional Movement Assessment (SFMA), soft tissue release, McKenzie Part A: The Lumbar Spine, and New Trends in the Prevention of Running Injuries. She also has her Certificate in Sports Physiotherapy.
Meghan is currently working as a trainer with Football North (a high school tackle football program). She has also covered various sports and sporting events, including OPDL soccer, Canadian track, and field Championship, Ottawa Race Weekend, Canadian National Triathlon, Canadian National Figure Skating Championship, and Mackenzie PGA Canada Tour.
In her spare time, Meghan enjoys running and playing basketball, volleyball, and touch football.